ps:i wont b on here all da time cos i av sch but i will try to come on here and reply to u

hi im rikku
im 17 yrs old
blonde hair and green eyes
im a sphere hunter its real fun.
i have 1 bro called borther lol and my dads name is cid
im also al bhed its a pretty hard language to learn.
my best freinds are yuna and paine.yuna is also my cousin.
we travel spira on our airship the celsius which is also our base
our lil group is called the gullwings.

this is me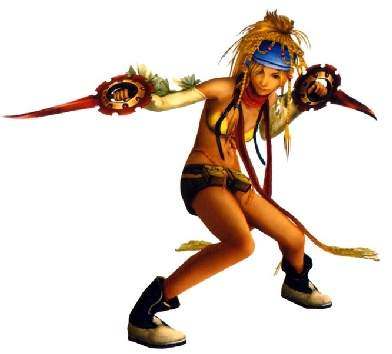 i have alot of energy and im a bit hyper at times hehe
im an upbeat and positive person but im not afraid to
speak my mind im also good with machina.i know ppl think
they are bad but they help us out alot.
anyway these are sum of the things i like doing:

fixing machina

designing machina

watching/playing blitzball

going to different places

meeting new ppl

making friends

collecting spheres

having fun

swimming

me and paine

oh and ive gotten ova my fear of lightening which im happy
about.i also was a guardian to yuna and helped her out on
her pilgrimage to defeat sin alongside with tidus,wakka,
lulu,auron and kimahri.it was tough but we did and so
the calm started.so we have moved on to be the best
sphere hunters out there.woooooooooo go us lol.