hey i dont go on here much so please dont get anoyed if it seems like i am ignoring you =) if you like something and want it personalized i will be glad to do it and will get to it as soon as possible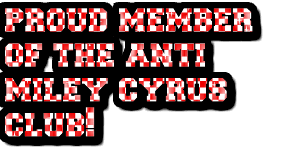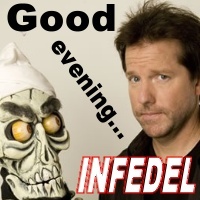 |...............|
|...............| Put this on your
|...............| page if you have
|...........O.| ever pushed a
|...............| door that said pull
|...............|
In case you didn't notice I am green day obbssed =)) I love music but if you wanna talk about it you have to get through about a hour of me saying how cute billie joe looks in the minority vid. Just kidding, but I do love them ; )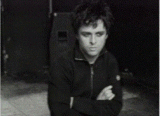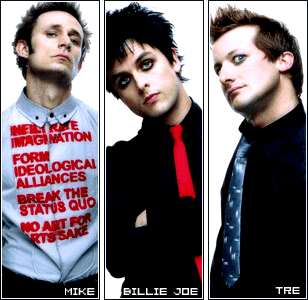 ---------------------------------------------------------------
Billie Joe Quotes
"School is practice for future life, practice makes perfect and nobodys perfect, so why practice?"
"A guy walks up to me and asks 'What's Punk?'. So I kick over a garbage can and say 'That's punk!'. So he kicks over a garbage can and says 'That's Punk?', and I say 'No that's trendy!"
"Just seeing the things on TV and the things in front of you, the amount of information coming in, and the lack of information not coming in, how could you not help but write songs about it."
"It's my fucking life and - you know what? - nobody invited you... so there's the door."
"It's the new 'Thriller,' ... 'Jesus of Suburbia' is really a long song, so already it's quite a task. You can't think of it as making a video, but a short film, and that's what Sam did. There's dialogue. It follows the story of the song more so than the other videos from American Idiot. "
"We met Mr. Scrappy, we saw the boys in Good Charlotte — we've seen a lot of gold teeth."
"It's better to regret something you have done than to regret something you haven't done."
"All saints are gonna be there? Tre, you might get laid!"
Tre Cool Quotes
"It's not how you pick your nose, it's where you put that booger that counts."
"The one thing about Billie is he will snap and rip your head off if you point anything out at all other than how beautiful he is and how nice he looks today."
"I want to wash your grandmother."
"Roll, roll, roll a joint, twist it at the end, light it up, take a puff, pass it to you're friend."
"Mmmmmmmmmm....You can almost smell the burning pork...Hey you ever thrown rocks at cops?"
When asked why there are no clouds in the sky
"Because God wants to watch his favourite band again!"
"No man can eat fifty eggs."
Mike Dirnt Quotes
"I have a daughter and she's the greatest thing that ever happened to me. She gives me a good excuse to watch cartoons."
"I draw most of my religious beliefs from Star Wars."
"Now are any of these vegetables magic? I mean if I rub that bean on my foot will I run faster?"
"Opinons are like assholes, Everybody's got one!"
------------------------------------------------------------------
now im not going to tell you my entire life story because i dont think you would want to hear that so im gonna put some random useless icons here and hope that is suffice....speaking of suffice..
Some say the world will end in fire,
Some say in ice.
From what I've tasted of desire
I hold with those who favor fire.
But if it had to perish twice,
I think I know enough of hate
To know that for destruction ice
Is also great
And would suffice.
-robert frost
Weird is good, strange is bad, and odd is when you don't know which to call someone. Weird is the same as different, which is the same as unique, so weird is good. If you are weird and proud of it, copy this onto your profile!
------------------------------------------------------------------
Random Quotes
"God made man, and then he said, "I can do better than that," and made woman." - Adela Rodgers St. Johns
"I reject your reality and substitute my own." Adam Savage, Mythbusters
"What happens if you get scared half to death twice?" –Unknown
"Whoever said nothing is impossible, never tried to slam a revolving door,"- Unknown
"We could all take a lesson from crayons: some are sharp, some are beautiful, some have weird names, all are different colors, but they still learn to live in the same box."-Unknown
"I am amazed at radio DJ's today. I am firmly convinced that AM on my radio stands for Absolute Moron. I will not begin to tell you what FM stands for." --Jasper Carrott Engineering: 'How will this work?' Science:'Why will this work?' Management: 'When will this work?' Liberal Arts:'Do you want fries with that?'" –Unknown
"The truth will set you free, but first it will make you miserable." –Unknown
"A computer once beat me at chess, but it was no match for me at kick boxing." – Unknown
"When there's a will, I want to be in it." – Unknown
"A positive attitude may not solve all of your problems, but it will annoy enough people to make it worth the effort." ~Herm Albright
Firefighter: At one point we decided to fight fire with fire... Well...basically... your house burned even faster.
Never argue with an idiot. They drag you down to their level and beat you with experience. Never argue with me, I'll drag you down to my level and beat you with a bat.
There are three kinds of people in the world; ones that can count and ones that can't count.
-----------------------------------------------------------------
If con is the opposite of pro,
is "Congress" the opposite of "progress"?
Why is it called common sense if it's so rare?
Some examples of why the human race has probably evolved as far as possible. These are actual instruction labels on consumer goods..
On Sears hairdryer:
Do not use while sleeping.
(Gee, that's the only time I have to work on my hair!)
On a bag of Fritos:
You could be a winner! No purchase necessary. Details inside.
(The shoplifter special!)
On a bar of Dial soap:
Directions: Use like regular soap.
(and that would be how?)
On some Swann frozen dinners:
Serving suggestion: Defrost.
(But it's 'just' a suggestion!)
On Tesco's Tiramisu dessert: (printed on bottom of the box)
Do not turn upside down.
(Too late! you lose!)
On Marks & Spencer Bread Pudding:
Product will be hot after heating.
(Are you sure? Let's experiment.)
On packaging for a Rowenta iron:
Do not iron clothes on body.
(But wouldn't that save more time?)Whose body?)
On Boot's Children's cough medicine:
Do not drive car or operate machinery.
(We could do a lot to reduce the construction accidents if we just kept those 5 year olds off those fork lifts.)
On Nytol sleep aid:
Warning: may cause drowsiness.
(One would hope!)
On a Korean kitchen knife:
Warning: keep out of children.
(hmm..something must have gotten lost in the translation..
On a string of Christmas lights:
For indoor or outdoor use only.
(As opposed to use in outer space.)
On a food processor:
Not to be used for the other use.
(Now I'm curious.)
On Sainsbury's peanuts:
Warning: contains nuts.
(but no peas?)
On an American Airlines packet of nuts:
Instructions: open packet, eat nuts.
(somebody got paid big bucks to write this one..
On a Swedish chainsaw:
Do not attempt to stop chain with your hands.
(Raise your hand if you've tried this.)
On a child's Superman costume:
Wearing of this garment does not enable you to fly.
(Oh go ahead! That's right, destroy a universal childhood belief.)
------------------------------------------------------------------
When I die, I want to go peacefully like my Grandfather did, in his sleep-- not screaming, like the passengers in his car.
I find "good morning" a contradiction of terms
╔╗╔═╦╗ Put this on your site
║╚╣║║╚╗If you like to laugh! XD
╚═╩═╩═╝