I'm not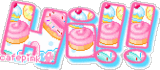 my name is Lydia. I'm 16 years old and I love animals!
If you want to be my friend tell me because I would like to do a lot of friends on this site!
If you have graphics animals and are looking for comments and votes, ask me I will be happy to do so!