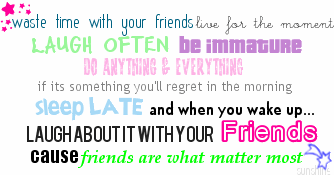 So curious to know? Well..I guess you can say that Im a stupid person most of the time. My personality is way beyond normal. There are times when I can have really weird mood swings. I don't like being with the crowd, I enjoy being able to stand out. Many times I like to play around, meaning I'm not a very serious person. I act at least 4 years younger. But when it comes to being serious..Im very serious..(Not) Although I may act like a child, in reality I can be mature when I want to be.
Another thing you should know about me is that Im a lazy person. I always put myself down too, yet encourage my friends or others. (Weird huh?) I hate school by the way. At times Ill speak my mind..just ignore me when I do, because those things that do come from my mouth are usually insulting or bad. If it isnt..then..well what evers..
..I hate people who try to be like other people..or people who are used by others..I love the kinds of people who are just themselves they dont copy anyone else..its actually really hard to find people now a days who are like that in this world..
Overall..please ignore my stupidity and randomness..
;_;