um.. so i'm new.. not minding friends or anything.. hope you add me..
idk much about this profile stuff..
but i'll be making this awesome when i find out how..
random things about me:
i'm 12 turning 13 in june
i like anime
i'm in 7th grade
i edit and rp
i get headaches easily
i have an ex-bff that won't leave me alone sometimes
my bff is the greatest girl ever!
i like hugging a shortish guy named kevin
sometimes i'm bi-polar
i may have a.d.d
i crush on the weirdest people
sometimes i wish my mom would just relax
i'm as broke as a hobo lol
pictures i edited:
kazahana
original picture:
here
program used: ms paint
I TAKE REQUESTS!
Rules:
Nothing inappropriate
You choose the picture and tell me what you want changed
Please be patient if I take a while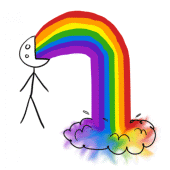 taste the rainbow! again..