My name is Maegan
I'm thirteen
i live somewhere in america
where?
none of your business
stalker

i love:
anime
music
ramen
manga
booka
the color black
anime
grapes
my besties
other fruit
and did i mention anime?

I DESPISE:
rascists
morons
people who judge too soon
people who label
those who think they're higher than everyone else
sometimes my parents

Also:
i hate a four letter word
yet a four letter word a five letter word that i can listen to
but a also four letter word a six letter word that may be the end to me
don't ask

i wanna write some day
i'm pretty damn good at it
if you have any
friendly
advice for me, go ahead.

My fav animes:
Bleach
Mai HiME
Mai Otome
Mai Otome ZWEI
Eureka Seven
Blood+
Peach Girl
Escaflowne

I'm also trying to learn japanese. even though i don't have an official teacher or anything. it's not that hard. just a little confusing.

Also, i can only do still avatars and stuff now b/c my stupid trial ran out on the GIF animator and i'm broke, so i can't get one. i was so busy and stuff i didn't even notice.*sigh* oh well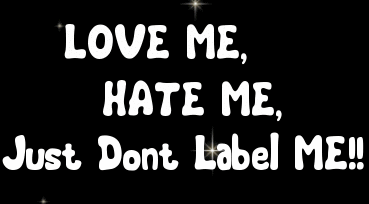 If you have a problem with this.
please just leave me ALONE.